Dave Eggers
Dave Eggers, American writer, editor, publisher. Named one of The 100 Agents of Change, Rolling Stone magazine, 2009; recipient Addison Metcalfe award, American Academy of Arts and Letters, 2001, National Magazine award for fiction, American Society Magazine Editors, 2007, Heinz award in Arts & Humanities, Heinz Family Foundation, 2007, Literarian award for Outstanding Service to American Literature Community, National Book Foundation, 2009.
Career
Former writer, editor Salon.com. Founder, editor, contributor McSweeney's Internet Tendency (now McSweeney's Public House), creator magazines The Believer, Wholphin. Co-founder, teacher nonprofit writing/tutoring center 826 Valencia, San Francisco, since 2002.

Original contributor Entertainment and Sports Programming Network The Magazine.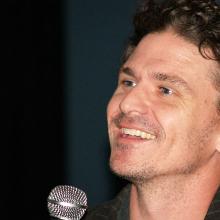 Born
March 12, 1970
(age 47)