Evan Bayh (Birch Evan Bayh III)
Evan Bayh, lawyer, former United States Senator from Indiana. Bar: District of Columbia 1982, Indiana 1983. Recipient Carolyn Mosby Above & Beyond award, Indiana Black Exposition, 1995, Breaking the Glass Ceiling award, Women Executives in State Government, 1996, Good Government award, Cato Institute, 1996, Henry M. Jackson award, Jewish Institute National Security Affairs, 2004, Friend of Zion award, The Jerusalem Fund, 2004.
Background
Bayh, Evan was born on December 26, 1955 in Terre Haute, Indiana, United States. Son of Birch Evan Junior and Marvella (Hern) Bayh.
Education
Bachelor of Science in Business Economics, Indiana University, 1978. Juris Doctor, University Virginia, 1981.
Career
Law clerk United States District Court, 1982—1983. Attorney Hogan & Hartson LLP, 1982—1983, Bingham, Summers, Welsh & Spilman, Indianapolis, 1985—1986. Secretary of state State of Indiana, 1987-1989, governor, 1989-1996.

Partner Baker & Daniel Associates, 1997-1998. United States Senator from Indiana, 1999—2011. Partner McGuireWoods LLP, Washington, since 2011.

Chairman Democratic Leadership Council, 2001—2005.
Major achievements
Bar: DC 1982, Indiana 1983.
Works
As the son of a leading Democratic figure in the '60's and '70's, Senator Evan Bayh's youth included political discussions, canvassing votes, and dinner at the White House.
Author: From Father to Son: A Private Life in the Public Eye, 2003.
Connections
Married Susan Bayh; children: Beau, Nicholas.

father: Birch Evan Bayh Junior

mother: Marvella (Hern) Bayh

spouse: Susan Bayh

children: Beau Bayh

Nicholas Bayh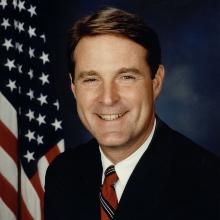 Born
December 26, 1955
(age 61)
Nationality
1978

Indiana University

1981

University Virginia

1982 - 1983

attorney, Hogan & Hartson Limited Liability Partnership
Bingham, Nottinghamshire, United Kingdom

1982 - 1983

Law clerk, United States District Court


1985 - 1986

attorney, Hogan & Hartson Limited Liability Partnership
Summers, Arkansas, United States

1987 - 1989

secretary, of state State of Indiana


1989 - 1996

secretary, of state State of Indiana


1997 - 1998

partner, Baker & Daniel Associates


1999 - 2011

United States Senator from Indiana


2011

partner, McGuireWoods Limited Liability Partnership
Washington, United States
Contributor  
Spelling variants for First Name
Spelling variants for Last/Family/Name
Middle Name
Activities

United States Senator from Indiana

Album
College/University

Indiana University
University Virginia

Career

McGuireWoods Limited Liability Partnership

Description
Address
mainPhoto

Hogan & Hartson Limited Liability Partnership

Description
Address
mainPhoto

Hogan & Hartson Limited Liability Partnership

Description
Address
mainPhoto

United States District Court

Description
Address
mainPhoto

of state State of Indiana

Description
Address
mainPhoto

of state State of Indiana

Description
Address
mainPhoto

Baker & Daniel Associates

Description
Address
mainPhoto

United States Senator from Indiana

Description
Address
mainPhoto

Major Achievements

Bar: DC 1982, Indiana 1983.

Awards
Membership description
Works

Author: From Father to Son: A Private Life in the Public Eye, 2003.

Link
Works description
mainPhoto

book: From Father to Son: A Private Life in the Public Eye

Relatives

Beau Bayh
Nicholas Bayh
Marvella (Hern) Bayh
Susan Bayh
Birch Evan Bayh Junior

Religious beliefs
Views and World outlook
Quotations
Party affiliation description
Favorite Sports & Clubs
Favorite Athletes
Ethnicity details
College/University Description
Favorite Political Figures
Favorite Philosophers & Thinkers
Favorite Music & Bands
Favorite writers
Favorite Artists
Other interests
Personality
Quotes from others about the person
Physical Characteristics
Go
up
Edit Profile