Evan Bayh (Birch Evan Bayh III)
Evan Bayh, lawyer, former United States Senator from Indiana. Bar: District of Columbia 1982, Indiana 1983. Recipient Carolyn Mosby Above & Beyond award, Indiana Black Exposition, 1995, Breaking the Glass Ceiling award, Women Executives in State Government, 1996, Good Government award, Cato Institute, 1996, Henry M. Jackson award, Jewish Institute National Security Affairs, 2004, Friend of Zion award, The Jerusalem Fund, 2004.
Background
Education
Career
Law clerk United States District Court, 1982—1983. Attorney Hogan & Hartson LLP, 1982—1983, Bingham, Summers, Welsh & Spilman, Indianapolis, 1985—1986. Secretary of state State of Indiana, 1987-1989, governor, 1989-1996.

Partner Baker & Daniel Associates, 1997-1998. United States Senator from Indiana, 1999—2011. Partner McGuireWoods LLP, Washington, since 2011.

Chairman Democratic Leadership Council, 2001—2005.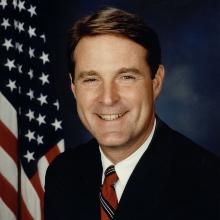 Born
December 26, 1955
(age 61)
Nationality
1978

1981

1982 - 1983

1982 - 1983

1985 - 1986

1987 - 1989

1989 - 1996

1997 - 1998

1999 - 2011

2011