Background
Career
Assistant to curator Mutter Museum, College Physicians of Philadelphia, 1975-1980, acting curator, 1980-1982, curator, 1982-1988, director, 1988—2004. Board advisor CADUCEUS, Museum Quarterly for the Health Sciences, Springfield, Illinois, 1989-2004. Institutional consultant International Society Physician Historians, New York City, 1983-2004.

Advisor Edward Hand Medical Heritage Museum, Lancaster, Pennsylvania, 1989-2004. Board directors Walt Whitman Association, Camden, New Jersey, National Museum Civil War Medicine.
Membership
Co-chairman Eastern State Penitentiary Task Force, Philadelphia, 1988-1990, chairman, 1990-2004. Member American Association Museums, Museum Council Philadelphia and Delaware Valley (president 1989-1991, board directors 1991-2004), Medical Museum Association, European Association Museums of History of Medical Science (executive council 1988-2004), West Philadelphia Shakespeare Club II (president 1983-1985).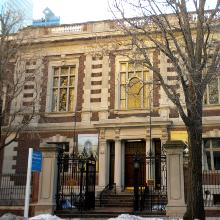 1967

1970

1975 - 1980

1975 - 1980

1980 - 1982

1980 - 1982

1982 - 1988

1982 - 1988