Career
Sales representative, various sales and marketing positions Kellogg de Mexico, Mexico City, 1975—1982, general manager, 1984—1989. President, Chief Executive Officer Kellogg Canada, 1989-1990. Supervisor Latin American marketing services Kellogg Company, Battle Creek, Michigan, 1982-1983, manager international marketing services, 1983-1984, corporation vice president product development, 1990, vice president, 1990-1993.

Executive vice president sales & marketing Kellogg United States of America, 1990—1993, executive vice president, 1993—1994, general manager cereal division, 1993—1994. President Kellogg Asia-Pacific, 1994—1996. Executive vice president Kellogg Company, Battle Creek, Michigan, 1994-1996, executive vice president business development, 1996-1998, chief operating officer, 1998-1999, president, 1998—2000, Chief Executive Officer, 1999—2004, chairman, 2000—2004.

Secretary United States Department Commerce, Washington, 2005—2009. Chairman Global Political Strategies (Global Positioning System), 2009—2010. Vice chairman Citi Institutional Clints Group Citigroup, Inc., NYV, since 2011.

Board directors Kellogg Company, 1999—2004, Colgate-Palmolive Company, 2002—2005, Corning Inc., since 2009, United Technologies Corporation, since 2009, Occidental Petroleum Corporation, since 2009, IGPS Company, LLC, since 2009.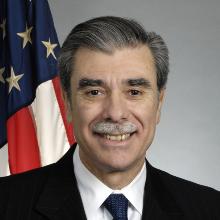 Born
November 4, 1953
(age 64)
Nationality