William Cullen Bryant
William Cullen Bryant was an American poet and journalist
Background
Bryant, William Cullen was born on November 3, 1794 in Cummington, Massachusetts, United States. Son of Doctor Peter and Sarah (Snell) Bryant.
Education
Attended Williams College, 1810-1811. Studied law under Mr. Howe, Worthington, Massachusetts, 1811-1814.
Career
Published an attack on President Jefferson called The Embargo, 1808. Admitted to Massachusetts bar, 1815. Practiced law, Great Barrington, Massachusetts, 1816-1825.

Published collection of poems responsible for his fame, including Thanatopsis (1817), To a Waterfowl (1818), The Ages (1821), 1821. Editor New York Review and Athenaeum Magazine, 1825. Assistant editor New York Evening Post, 1826-1829, editor, 1829-1878.

Politically powerful as editor, backed free-trade, anti-slavery ideas, supported Democrats, 1848, gradually shifted to Republican Party. Editor one of most powerful papers in the United States during Civil War, said to have influenced Abraham Lincoln in issuance of Emancipation Proclamation. Called "First Citizen of the Republic".

Author poetical works including: Poems, 1821. Poems, 1832; The Fountain and Other Poems, 1842. The White-Footed Doe, and other Poems, 1844.

Published Tales of the Glauber Spa (short stories), 1832. Letters of A Traveller (travelog), 1850. Translator The Iliad, 1870, The Odyssey, 1872.
Works
The Embargo (1808, poetry)
The White-Footed Deer and Other Poems (1844, poetry)
Thirty Poems (1864, poetry)
Connections
Married Frances Fairchild, June 11, 1821, 2 children.

father: Peter Bryant (doctor) - doctor

mother: Sarah Snell

She was a descendant of Mayflower pilgrims

Wife: Frances Fairchild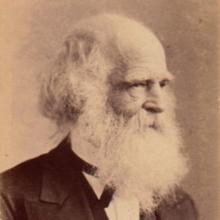 Born November 3, 1794
Died
June 12, 1878
(aged 83)
Nationality
1829 - 1878

Editor-in-Chief, The New York Evening Post


1846

Co-Founder, Century Association


1860

Administrator, founder, New York Medical College

Contributor  
Works

poetry: The Embargo (1808, poetry)
poetry: Poems (1821, poetry)
poetry: The White-Footed Deer and Other Poems (1844, poetry)
poetry: Thirty Poems (1864, poetry)
poetry: Poetical Works (1876, poetry)
First Name
Middle Name
College/University
Career

New York Medical College
The New York Evening Post
Century Association

Address
Family description
Background
Membership description
Works

poetry: The Embargo (1808, poetry)

Link
Works description
mainPhoto

poetry: Poems (1821, poetry)

Link
Works description
mainPhoto

poetry: The White-Footed Deer and Other Poems (1844, poetry)

Link
Works description
mainPhoto

poetry: Thirty Poems (1864, poetry)

Link
Works description
mainPhoto

poetry: Poetical Works (1876, poetry)

Link
Works description
mainPhoto

Relatives

Peter Bryant (doctor)
Sarah Snell
Frances Fairchild

School description
School and college years description
College/University Description
Career Description
Personality
Quotes from others about the person
Physical Characteristics
Go
up
Edit Profile