Wayne Allard (Alan Wayne Allard)
Wayne Allard was United States Senator from Colorado, veterinarian. Recipient Charles A. Lory Public Service award, Colorado State University, 1999, Outstanding Legislation award, Home Care Association of Colorado, Humane Legislation of Year award, American Humane Association, 2001, Champion of Wheat award, National Association Wheat Growers, 2003, Friend of Home Care, Home Care Association Colorado, 2003.
Membership
Chairman United Way; active 4-H Foundation. Member American Veterinary Medical Association, Colorado Veterinary Medicine Association, Larimer County Veterinary Medicine Association (past president), Board Veterinary Practitioners (charter member), American Animal Hospital Association, National Conference State Legislatures (vice-chairman human resources committee since 1987, healthcare cost containment committee), Loveland Chamber of Commerce.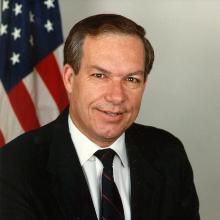 Born
December 12, 1943
(age 73)
Nationality