James Fenimore Cooper
James Fenimore Cooper was a popular American novelist and satiristof the early 19th century.
Background
Shortly after his first birthday, his family moved to Cooperstown, New York, a community founded by his father.

Cooper passed his boyhood in the frontier community of Cooperstown, established by his father, William Cooper, on large holdings in the lake region of central New York. After attending Yale, Cooper went to sea in 1806 and from 1808 to 1811 was a midshipman in the tiny United States Navy. In 1811 he married Susan Augusta DeLancey and resigned his commission. An active country gentleman, he devoted himself to his family, and to agricultural, political, financial, and social interests in Cooperstown and in Westchester County.

In 1819, during a period of leisure, Cooper started writing a "moral tale." Upon finding the plot unmanageable, he destroyed the manuscript, but shortly thereafter he completed Precaution (1820), a conventional novel of manners written for the amusement of his family of daughters. Having thus at the age of thirty-one uncovered a flair for storytelling, he composed The Spy (1821), a tale of the "neutral ground" of the Revolution, based on legends and terrain familiar to him. The international success of The Spy enabled him to move his family to New York City, where he soon became a dominant literary figure and a leader of those writers eager to develop a native American literary tradition.

The Pioneers (1823), based on Cooperstown experiences, not only inaugurated Cooper's study of the development of the American frontier but also invented one of the truly unique American fictional characters, Natty Bumppo, the Pathfinder. The five novels composed in later years around this central figure became known as the "Leatherstocking Tales" and have remained the most popular of Cooper's many romances. The Deerslayer (1841), The Last of the Mohicans (1826), The Pathfinder (1840), The Pioneers, and The Prairie (1827) traced in that order Natty Bumppo's continuing flight away from successive stages of advancing settlement. Cooper's Indians in these novels are largely idealized from information he found in books and local legends; but his romantic picture deeply influenced subsequent concepts about the American Indian.

The Pilot (1823), with its memorable character, Long Tom Coffin, was the first of Cooper's many novels which applied his basic narrative formula of adventure and pursuit to the sea. His later History of the Navy of the United States (1839) revealed both his love and knowledge of the facts and romance of the world of ships.

For modern critics, Cooper's serious life-long concern with social criticism has come to be his most significant literary contribution. Although all of his work contains passages of social moralizing, he turned more intently to such themes when in 1826 he went abroad and began a militant defense of American democratic principles in contrast to European customs. By heritage he held a conservative position which emphasized the conventional moral nature of individual liberty, stressed the social necessity of small property ownership, and urged the validity of an aristocracy of worth. However, when on his return to America he sharply criticized his countrymen for failing to live according to such principles, he aroused much antagonism. He further irritated the public by legal battles over personal property rights and copyright laws in America. Nevertheless, his political allegory The Monikins (1835), his five travel books (18361838), his essay The American Democrat (1838), and social novels such as Satanstoe (1845) reveal him as an astute critic of American life in a crucial period.

The last twelve years of his life, spent at Cooperstown, were his most mature and productive period. The seventeen long fictional works which he wrote during this time are evenly divided among the three subjects which interested him: the sea, the frontier, and social criticism. Cooper died on Sept. 14, 1851.

Cooper's strength, imaginative and intellectual, came from his passionate attachment to the land and to the virtues which he associated with it. A staunch democrat, he believed the political equality could be preserved only by the strictest observance of the rights of persons and property, social distinctions arising inevitably as the consequence of such observance. He endowed his greatest creation, Leatherstocking, with the qualities he most admired: love of justice and truth, reverence, integrity, frankness, and courage. Although Cooper's fiction is seriously marred by the speed and carelessness with which he wrote, the popular conventions which he employed, and the topical nature of many of his interests, his romances are based, to a greater extent than is usually recognized, on the best historical knowledge of his time, idealized and transmuted into compelling narrative by his graphic language.

James Franklin Beard and Emerson Shuck

The Spy , the first successful novel by James Fenimore Cooper, subtitled A Tale of the Neutral Ground, and based on a legend of the American Revolution told him by his neighbor John Jay, and first published in 1822. Harvey Birch, a peddler who traveled between battle lines, is suspected of being an English spy, though he is secretly in the employ of General Washington. The "neutral ground" of Westchester County, New York, houses rebel and loyalist alike, and much of the complicated plot deals with problems of the Wharton family and its divided allegiance. Young Henry Wharton is really an English spy, but his sister Frances sympathizes with the patriots. Capture and exciting escape, with Birch everywhere playing the role of deliverer, is the pattern of the book, interspersed, however, with strikingly realistic scenes of rebel marauders and camp followers, which are among the best that Cooper ever wrote.

The Last of the Mohicans, the second and best-known of the "Leatherstocking Tales." The novel, published in 1826, is set in upper New York during the French and Indian War (1757). Cora and Alice Munro, daughters of the English commander of Fort William Henry, are accompanied by Major Duncan Heyward, by a Yankee singing teacher named David Gamut, and by the treacherous Indian guide Magua as they travel through the wilderness to join their father. They are betrayed to the Iroquois by Magua but are rescued by the intrepid scout Hawkeye (Natty Bumppo) and by his two Indian companions, Uncas, the last of the Mohicans, and his father Chingachgook. The action from this point alternates between pursuit, capture, and escape, with Alice joined at last to her fiancé,fiance, Heyward, while her sister dies melodramatically along with Uncas when the latter attempts to rescue her from Magua. Hawkeye avenges them with his trusty long rifle and then goes his way through the woods, to reappear in the next Leatherstocking thriller.
Education
At 13, Cooper was enrolled at Yale, but he did not obtain a degree due to being expelled. His expulsion

stemmed from a dangerous prank that involved him blowing up another student's door. Another less dangerous prank consisted of training a donkey to sit in a professor's chair.
Career
He obtained work as a sailor on a merchant vessel, and at 18, joined the United States Navy. James obtained the rank of midshipman before leaving in 1811.He anonymously published his first book, Precaution (1820). He soon issued several others. In 1823, James published The Pioneers.n 1826 Cooper moved his family to Europe, where he sought to gain more income from his books as well as provide better education for his children. While overseas, he continued to write.In 1832 he entered the lists as a political writer; in a series of letters to the National, a Parisian journal, he defended the United States against a string of charges brought against them by the Revue Britannique.In 1833 Cooper returned to the United States and immediately published A Letter to My Countrymen, in which he gave his own version of the controversy and sharply censured his compatriots for their share in it. He followed up with

novels and several sets of notes on his travels and experiences in Europe. His Homeward Bound and Home as Found are notable for containing a highly idealized self portrait.He wrote a history of the US Navy, and returned to the Leatherstocking series with The Pathfinder, or The Inland Sea (1840) and The Deerslayer (1841) and other novels.
Connections
Married Susan DeLancey, January 1, 1811. Children: Susan Augusta, Paul.

father: William Cooper

mother: Elizabeth Cooper

Wife: Susan DeLancey

They had seven children, five of whom lived to adulthood. His daughter, Susan Fenimore Cooper, was a writer on nature, female suffrage, and other topics. She and her father

often edited each other's work. The writer Paul Fenimore Cooper was a great-grandson of James Cooper.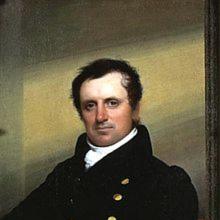 Born September 15, 1789
Died
September 14, 1851
(aged 61)
Nationality
Contributor  
Gender
Album
Birth date
Birth month
Birth day
Place
Death date
Death month
Death day
Nationalities
General Info
Relatives

William Cooper
Elizabeth Cooper

Person Photo
Religious beliefs
Views and World outlook
Quotations
Party affiliation description
Favorite Sports & Clubs
Favorite Athletes
Ethnicity details
School description
College/University Description
Favorite Political Figures
Favorite Philosophers & Thinkers
Favorite Music & Bands
favoriteMusicArtists
Favorite writers
Favorite Artists
Other interests
Career Description
First Name
Middle Name
Background
Address
Family description
Membership description
College/University Description
Personality
Quotes from others about the person
Physical Characteristics
Go
up
Edit Profile