Warren Robinson Austin
Warren Robinson Austin, American former United Nations representative. Recipient Order Carlos Manuel de Cespedes (Cuba), Theodore Roosevelt Distinguished Service medal, 1st annual award American Association for United Nations, 1947, gold medal International Benjamin Franklin Society, also numerous award private orgns. and associations Honorary vice chairman of the board of trustees Harry S. Truman Library.
Background
Education
Bachelor of Philosophy Vermont, 1899, Doctor of Laws, 1932, Doctor of Civil Law, 1947. Doctor of Laws, Columbia, Norwich universities, 1944, Dartmouth, U. State New York, 1946, Boston University, Bates College, Princeton, Lafayette College, 1947, American U., 1948, Middlebury College, 1949, U. Santo Domingo, 1959, Tulane, Syracuse, Georgetown, Harvard universities, 1951. Studied law with C. G. Austin & Sons, St. Albans, 1899-1902.
Career
Admitted to Vermont bar, 1902, practiced as member father's firm, 1902-1916. Burlington, Vermont, 1917-1931. State's attorney of Franklin County, 1904-1906.

United States commissioner, 1907-1915. Attorney American International Corporation in China, 1916-1917. Mayor St. Albans 1909.

United States senator, 1931-1946. Special ambassador, adviser to acting representative United States in United Nations 1946, representative of the United States in United Nations, with rank of Ambassador Extraordinary and Plenipotentiary, 1947-1953, retired 1953. United States representative Security Council.

Chairman advising committee permanent headquarters. Delegate 2d session General Assembly, 3d session, Paris, 1948, New York 1949, 4th session 1949. Trustee School Advanced International Studies and Foreign Training Center, Washington.

Member board School International Affairs, Lafayette College. Trustee U. Vermont, 1914-1941. Delaware Republican nat. convs., 1928, 40, 44.

Attended Philippine Commonwealth inauguration, 1935.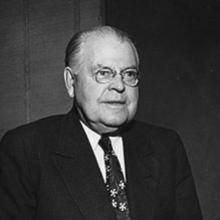 Born November 12, 1877
Nationality
Contributor  
Other Names
Spelling variants for First Name
Spelling variants for Last/Family/Name
Middle Name
Career
Awards
Relatives

Warren Robinson Austin
Edward Lucas Austin
Anne Mathilda (Robinson) Austin
Mildred Mary Lucas
Chauncey Goodrich Austin

Religious beliefs
Views and World outlook
Quotations
Party affiliation description
Favorite Sports & Clubs
Favorite Athletes
Ethnicity details
College/University Description
Favorite Political Figures
Favorite Philosophers & Thinkers
Favorite Music & Bands
Favorite writers
Favorite Artists
Other interests
Personality
Quotes from others about the person
Physical Characteristics
Go
up
Edit Profile