Career
National Secretary Youth Front, from 1977. National Leadership, Italian Social Movement - National Right from 1976. Councillor, S. Felice Circeo, Latina, from 1983.

Deputy, Rome-Viterbo-Latina-Frosinone, 1983, re-elected 1987. Member Committee on Constitutional Affairs. First signatory of the Italian Social Movement motion for Rome-Capital.

Member Committee on public and private work. Member of the European Parliament, since 1989. Professional journalist, since 1979.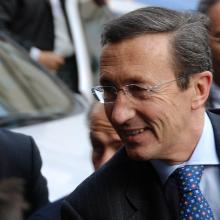 Born
January 3, 1952
(age 65)
Nationality
Ethnicity:
Contributor  
Other Names
Spelling variants for First Name
Spelling variants for Last/Family/Name
Middle Name
Activities
Album
Family description
Religious beliefs
Views and World outlook
Quotations
Party affiliation description
Favorite Sports & Clubs
Favorite Athletes
Ethnicity details
Favorite Political Figures
Favorite Philosophers & Thinkers
Favorite Music & Bands
Favorite writers
Favorite Artists
Other interests
Personality
Quotes from others about the person
Physical Characteristics
Go
up
Edit Profile