Jackie Speier (Karen Lorraine Jacqueline Speier)
Education
Career
Legal council, legislation assistant to Republican Leo J. Ryan United States Congress, 1973-1978. Member San Mateo County Board Supervisors, California, 1980—1984, chair, 1985—1986. Member California State Assembly from District 19, 1987—1996, majority whip, 1988—1992, chair consumer protection committee, 1991-1995.

Vice president governmental & community affairs Electronic Arts Inc., 1996—1998. Director governmental & corporation affairs Poplar ReCare, 1996—1998. Member California State Senate from District 8, 1999—2006.

Of counsel Hanson, Bridgett, Marcus, Viahos, & Rudy LLP, San Francisco, 2007—2008. Member United States Congress from 12th California District, since 2008, United States House Financial Services Committee, since 2009, United States House Oversight & Government Reform Committee, since 2009, United States House Special Committee on Energy Independence & Global Warming, since 2009.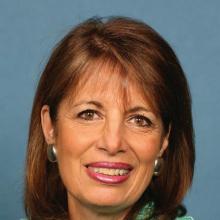 Born
March 14, 1950
(age 67)
Nationality