Asa Hutchinson (William Asa Hutchinson)
Background
Education
Career
City attorney City of Bentonville, Arkansas, 1977—1978. United States attorney (western district Arkansas) United States Department Justice, 1982-1985, administrator Drug Enforcement Administration Washington, 2001—2003. Partner Karr & Hutchinson, Fort Smith, Arkansas, 1986-1996.

Member United States Congress from 3rd Arkansas district, 1996—2001. Under secretary for border & transportation security United States Department Homeland Security, Washington, 2003—2005. Founding partner, Chief Executive Officer Hutchinson Group, LLC, Little Rock, since 2005.

Partner Venable LLP, Washington, 2005—2006, 2007, The Asa Hutchinson Law Group, PLC, Rogers, Arkansas, since 2008. Judiciary committee United States Congress, subcommitte crime, subcommittee constitution, transportation and infrastructure committee, subcommittee Water Resources and Environment, subcommittee aviation, intelligence committee, ethics committee, intellectual property subcommittee. Co-chair Freshmen Bipartisan Campaign Finance Reform Task Force.

Appointed to Speakers Task Force for Drug-Free American. Chairman, Arkansas State Republican Committee, 1990-1995. Past member Arkansas Judicial Ethics Commission, Arkansas Election Commission, Arkansas Election Law Revision Commission.

Conductor democracy workshops in Russia, 1994. Delegate White House Conference Aging, 1995. Past board member Western Arkansas chapter Alzheimer's Association.

Member board directors SAFLINK Corporation, since 2005, Chief Executive Officer Hutchinson Grp, Little Rock, Arkansas.
Major achievements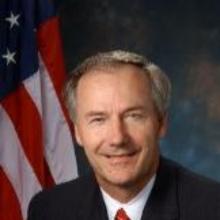 Born
December 3, 1950
(age 66)
Nationality