Ed Royce (Edward Randall Royce)
Ed Royce, United States Representative from California. Achievements include writing nation's 1st felony stalking law; writing bill for Foster Family Home Insurance Fund, creating foster parent recruitment and training programs. Board directors California Interscholastic Athletic Foundation; Member of Anaheim Chamber of Commerce, Fullerton Chamber of Commerce, Literacy Volunteers of America.
Career
Tax manager Southwestern Portland Cement Company. Member California State Senate from District 32, 1983—1992, United States Congress from 40th California District (formerly 39th), since 1993, assistant whip, since 1993, member finance services committee, international relations committee, foreign affairs committee. Legislation author, campaign co-chairman Proposition 15 Crime Victims/Speedy Trial Initiative.

Member Stop Corporate Welfare Coalition. Co-chair Porkbusters Coalition.
Major achievements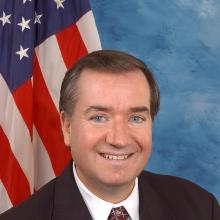 Born
October 12, 1951
(age 66)
Nationality