Jim DeMint (James Warren DeMint)
Jim DeMint, United States Senator from South Carolina. Named Executive of Year, Professional Secretaries International; recipient Friend of Seniors award, 60 Plus Association, Hero of Taxpayer award, American Tax Reform, Taxpayer Friend award, National Taxpayer Union, Defender of Private Property award.
Background
Education
Career
Senior sales representative Scott Paper Company, Greensboro, North Carolina, 1973-1975. Writer Henderson Advertising, Greenville, 1975-1981. Vice president Leslie Advertising, 1981-1983.

President, Chief Executive Officer DeMint Marketing Group, since 1983. Member United States Congress from 4th South Carolina District, 1999—2005. United States Senator from South Carolina, since 2005.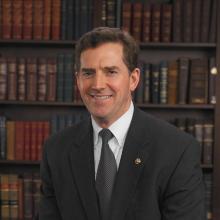 Born
September 2, 1951
(age 66)
Nationality