Barbara Spyridon Pope
Barbara Spyridon Pope, American federal agency administrator. Scottish Rite fellow, George Washington University, 1979; named one of Outstanding Yound Women in American, 1981, Woman of Year, Daughter of Penelope, 1992; recipient Medal of St. Andrew Greek Orthodox Archdiocese of North America and South America, 1988, Distinguished Public Service award Secretary Defense, 1989, Dickey Chapelle award Marine Corps League, 1992.
Background
Career
Industrial counsellor Litton Industries, Pascagoula, Mississippi. Staff assistant Senator Barry Goldwater (R-AZ), Washington, 1974-1979. Executive assistant to general counsel Small Business Administration, employee development specialist, 1980-1982, acting chief of staff, special assistant, 1982-1986, deputy assistant secretary defense force management and personnel (family support, education and safety), 1986-1989.

Assistant Secretary of the Navy manpower and research affairs The Pentagon, since 1989.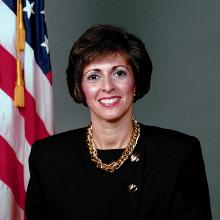 Born
November 10, 1951
(age 66)
Nationality