Judi Chamberlin
Judi Chamberlin, American mental health advocate, writer. Recipient Distinguished Service award President's Committee Employment of People with Disabilities, 1992, David J. Vail Advocacy award Mental Health Association Minnesota, 1992, N. Neal Pike prize for Services to People with Disabilities, N. Neal Pike Institute- Boston University Law School, 1995.
Background
Career
Project director Center Psychiatric Rehabilitation, Boston, from 1981. Co-founder Ruby Rogers Advocacy & Drop-In Center, Somerville, 1985-1999. Director research and training National Empowerment Center, Lawrence, 1992—2010.

Co-chair Massachusetts Mental Health Planning Council, Boston. Board directors Center Public Representation, Northampton, Mental Disability Rights International, Washington, National Association for Rights Protection and Advocacy. Member Governor's Special Advisory Commission Disability Policy, Boston.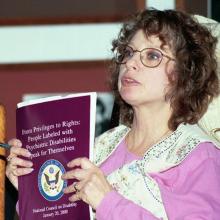 Born October 30, 1944
Nationality