Background
Career
Pastor Presbyterian Church, Morristown, New Jersey, 1824-1830, First Presbyterian Church, Philadelphia, 1830-1870. Became center of controversy when he denied doctrine of original sin in sermons, suspended from ministry by Synod, 1836-1837, restored to pastorate after vindication by Synod under control of New School Presbyns. (at time of nat. split between Old and New School Presbyns.).

Active in causes of abolition, prohibition, Sunday School establishment, during following decades. Worked to achieve reconciliation 2 factions of Presbyns. in 1869. Trustee Union Theological Seminary Author: Notes, Explanatory and Practical (commentaries on New Testament), 11 vols., 1832-1853.

Lectures on the Evidences of Christianity, 1868.
Major achievements
Barnes's main concerns were the abolition of slavery and the establishment of Sunday schools. The 11 volumes of his Notes on the New Testament (1832-1848), which were written especially for the benefit of Sunday school teachers, became very popular; more than a million copies were sold during Barnes's lifetime.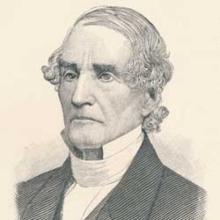 Born December 1, 1798
Died
December 24, 1870
(aged 72)
Nationality
Contributor  
Works

Notes on the Epistle of the Romans
Notes on the New Testament
Practical Sermons for Vacant Congregations and Families (1841)
Scriptural Views of Slavery (1846)
Closest Companion (1854)
How Shall Man Be Just with God (1854)
Miscellaneous Essays and Reviews (1855)
Way of Salvation Illustrated in a Series of Discourses (1855)
The Church and Slavery (1857)
Life at Three Score (1858)
Inquiries and Suggestions in Regard to the Foundation of Faith in the Word of God (1859)
The Atonement in Its Relation to Law and Moral Government (1859)
Lectures on the Evidences of Christianity in the Nineteenth Century (1868)
Notes to the Old Testament (1870)
Life at Three Score and Ten (1871)
Life at Three Score and Ten (1871)
Notes to the Old Testament (1870)
Lectures on the Evidences of Christianity in the Nineteenth Century (1868)
The Atonement in Its Relation to Law and Moral Government (1859)
Inquiries and Suggestions in Regard to the Foundation of Faith in the Word of God (1859)
Life at Three Score (1858)
The Church and Slavery (1857)
Way of Salvation Illustrated in a Series of Discourses (1855)
Miscellaneous Essays and Reviews (1855)
How Shall Man Be Just with God (1854)
Closest Companion (1854)
Scriptural Views of Slavery (1846)
Practical Sermons for Vacant Congregations and Families (1841)
Notes on the New Testament
Notes on the Epistle of the Romans
Other Names
Spelling variants for First Name
Spelling variants for Last/Family/Name
Middle Name
College/University

Fairfield Academy
Hamilton College

Address
Membership description
Works

Notes on the Epistle of the Romans
Notes on the New Testament
Practical Sermons for Vacant Congregations and Families (1841)
Scriptural Views of Slavery (1846)
Closest Companion (1854)
How Shall Man Be Just with God (1854)
Miscellaneous Essays and Reviews (1855)
Way of Salvation Illustrated in a Series of Discourses (1855)
The Church and Slavery (1857)
Life at Three Score (1858)
Inquiries and Suggestions in Regard to the Foundation of Faith in the Word of God (1859)
The Atonement in Its Relation to Law and Moral Government (1859)
Lectures on the Evidences of Christianity in the Nineteenth Century (1868)
Notes to the Old Testament (1870)
Life at Three Score and Ten (1871)

Relatives

Anna Barnes
Abby Smith.
Rufus Barnes
Abby Smith

Religious beliefs
Views and World outlook
Quotations
Party affiliation description
Favorite Sports & Clubs
Favorite Athletes
Ethnicity details
College/University Description
Favorite Political Figures
Favorite Philosophers & Thinkers
Favorite Music & Bands
Favorite writers
Favorite Artists
Other interests
Personality
Quotes from others about the person
Physical Characteristics
Go
up
Edit Profile