Background
Education
BME, University Illinois, 1917. Master of Engineering, University Illinois, 1929. Doctor of Laws, St. Benedict's College, Atchison, Kansas.

Doctor of Laws, Westminster College, Fulton, Missouri. Doctor of Laws, Kansas State University. Doctor of Laws, Manhattan and Washburn University, Topeka.

Distributed control system, Baker University, Baldwin City, Kansas.
Career
With Missouri Boiler Works Company, Kansas City, 1911-1919. With Darby Corporation, 1920-1987. Chairman board, owner.

Founder, chairman Leavenworth Steel, Inc. Now chairman board, owner. Founder, chairman Darby Railway Cars, Inc.

Director numerous corporations. United States senator from Kansas, 1949-1950.
Membership
Active 4-H Club, Boy Scouts American. Member Republican National Committee for Kansas, 1940-1964. Trustee various cultural institutions, associations.
Trustee, chairman Eisenhower Foundation, Abilene, Kansas. Chairman Eisenhower Presidential Library Commission, Abilene. Chairman emeritus American Royal Livestock and Horse Show.
Member executive committee Kansas Livestock Association, Agricultural Hall of Fame. Director, trustee National Cowboy Hall of Fame. Served from Second lieutenant to captain, Field Artillery United States Army, 1917-1919.
With Advertising Educational Foundation. Fellow American Society of Mechanical Engineers. Member Navy League United States, Kansas City Crime Commission, Kansas Registration Board Professional Engineers, University Illinois Foundation, American Society of Civil Engineers, National, Kansas society professional engineers, American Hereford Association, American National Livestock Association, Society of America Military Engineers, American Society Agricultural Engineers, Veterans of Foreign Wars, American Legion, 40 and 8, Military Order World Wars.
Clubs: Masons (32 degree), Shriners, Jesters, Kansas City, Automobile of Missouri, Saddle and Sirloin, Rotary, River, Terrace, Man of the Month (Kansas City, Kansas). Chicago; Chevy Chase, Capitol Hill (Washington).
Connections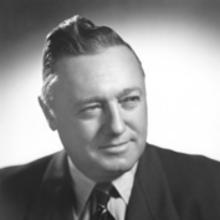 Born January 23, 1895
Nationality
1917

1929

1911 - 1919

1920 - 1987

1949 - 1950