Background
Career
Assistant attorney general State of Ohio, Columbus, 1964-1966, deputy assistant to Governor, 1969-1971, executive assistant to Governor, 1975-1979. Private practice law, 1966-1969. Associate Crabbe, Brown, Jones, Potts & Schmidt, 1972-1975.

Judge United States Court Appeals (10th circuit), 1979-1986. Chief justice Ohio Supreme Court, 1987—2010. Chair Conference of Chief Justices, 1995—1996, National Conference on Court Security, 2005.
Membership
Secretary board trustees Franklin University, Columbus, 1986-1987. Trustee University Club, Columbus, 1986. Member national council advisory committee Ohio State University College Law, Columbus.
Fellow: Ohio State Bar Foundation (Ritter award 1996). Member: Ohio State Bar Association (executive committee, council delegations, Ohio Bar medal 1991), Columbus Bar Association (president 1980-1981, Liberty Bell award), Critchon Club, Columbus Maennerchor Club.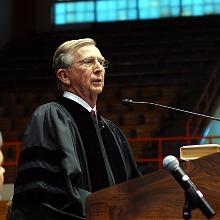 Born April 18, 1939
Nationality