Background
Education
Career
Law clerk United States Court Appeals (4th circuit), 1961-1962. Assistant United States attorney Washington, 1962-1965. Minority counsel committee on judiciary House of Representatives, 1965-1967.

Legal counsel to Senator C. Percy, United States Senate, 1967-1969. Assistant general counsel University Computing Company, Dallas, 1969-1971. General counsel Atomic Energy Commission, Washington, 1971-1973.

Special assistant to secretary and deputy secretary defense, 1973-1974. General counsel Department Defense, 1974-1975. Secretary Department Army, 1975-1977.

Managing partner Gardner, Carton & Douglas, 1977—1989. Vice president, general counsel, secretary Digital Equipment Corporation, Maynard, Massachusetts, 1989-1993. Senior visiting fellow Center for Policy, Technology and Industrial Development, Massachusetts Institute of Technology, Cambridge, 1993—1995.

Of counsel Skadden, Arps, Slate, Meagher & Flom, Washington, 1996-2000. Board directors Castle Energy, Philadelphia, Sea Change Corporation, Maynard, Massachusetts.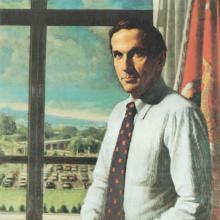 Born April 20, 1932
Nationality