Background
Career
Celler began his political career in 1922, when he was asked to run as the Democratic candidate for the tenth congressional district. His campaign plan was simple, but effective. He went from house to house and street to street. Sometimes he set off firecrackers in the street, and after a crowd gathered, began his rally. His efforts proved successful and he was elected as the first Democrat from the Brooklyn district.

In his first term of office he became involved in the issue of immigration to the United States and fought for the repeal of bigoted aspects of of the Immigration Act of 1924, which limited the immigration of certain peoples because of their ethnic origins.

Celler was a liberal, supporting President Franklin D. Roosevelt's New Deal and President Harry S. Truman's Fair Deal, which were designed to get the country back on its feet after the Depression.

During his time in Washington, Celler saw the country through many crises and in 1948, a senior congressman, he was elected head of the House Judiciary Committee. In that position he was able to propose antitrust laws and legislation allowing more immigration.

Although Celler's political career took him to Washington, his heart always remained in Brooklyn. He returned to his constituency on weekends, and that faithfulness earned him twenty-four reelections to the U.S. House of Representatives.

In 1972, after fifty years as a congressman, Celler was defeated in a Democratic primary. He returned to Brooklyn to continue in a law practice he had successfully maintained while in political office. He continued to practice law almost until his death at age ninety-two.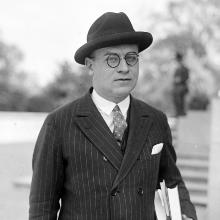 Born May, 1888
Died
January 15, 1981
(aged 92)
Nationality
Ethnicity: