Lina Solomonovna Stern (Lina Shtern)
Background
Born in Libau in the Russian Empire (today Liepāja, Latvia) into a Jewish family and educated in Geneva, Switzerland, she pursued an academic career and performed original research in biochemistry and in the neurosciences. From 1918 onwards she was the first woman awarded professional rank at the University of Geneva, being a Professor of chemio-physiology, and researching cellular oxidation.
Education
Career
She worked as an assistant in biochemistry in The University of Geneva from 1917 to 1925. In 1925 she became professor of physiology at the Second Moscow Medical Institute of Moscow University.

In 1929 Stern was appointed director and chief professor at the Physiological Scientific Research Institute, Moscow, and director of the Department of General Physiology at the All-Union Institute of Experimental Medicine. She was elected a member of the German Academy of Natural Sciences in 1932 and a member of the USSR Academy of Sciences in 1939, the first woman admitted to the latter body.

Between 1910 and 1947 Stern wrote over three hundred scientific papers on biology and physiology in Russian and German on a variety of subjects including the central nervous system, the endocrine system, sleep, catalase, oxidation ferments, oxidizing processes in animals, neurohormone regulation, the blood-brain barrier, cerebrospinal fluid, and defense mechanism and blood plexuses in the brain. She also edited Reports of the Convention's Discussions on the Problems of the Nervous System, (1946).

Although she had received many awards and gold medals including the Stalin medal, she was removed from all her positions during the Russian anti-Jewish purges of 1948-1949 and stripped of all her honors, being accused of "rootless cosmopolitanism." After Stalin's death she was reinstated and her honors returned to her.
Major achievements
Personality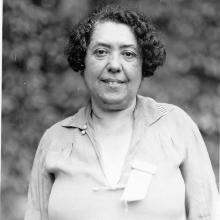 Born August 26, 1878
Died
March 7, 1968
(aged 89)
Nationality
Ethnicity:
1903

1904 - 1906

1906 - 1917

1917 - 1925

1925 - 1949

1925 - 1949

1929 - 1949