Background
In 1851, he immigrated to the U.S. with a friend. He settled on a farm in an established Swedish colony in Illinois in 1853 and brought his family from Sweden to join him. But Mattson did not find Illinois promising. He left in search of better land just a few months after settling there.

In 1857 due to panic Mattson was financially ruined. He served with distinction as a colonel in the American Civil War (1861–1865) and then returned to Minnesota.

After returning to Minnesota, Mattson began his work as an immigration booster. First he worked with the St. Paul & Pacific Railroad Co, where he was a protection agent to greet Swedish and Norwegian arrivals in Chicago.
Career
Building on his experience, in 1866, Mattson proposed the creation of a state Board of Immigration. The board would recruit immigrants to homestead land in Minnesota. Until the 1880s, immigration to the U.S. was regulated by states rather than the federal government. In 1867, Governor William Marshall established the board and named Mattson to be its first secretary. The state was especially interested in recruiting Scandinavian immigrants, who were considered to have good moral character.

As a booster, Mattson promoted Minnesota in Sweden and Norway. He also promoted the state to Scandinavian immigrant communities in the Eastern U.S. Mattson recruited immigrants to Minnesota by several means. He wrote for Swedish American newspapers; he encouraged immigrants to write letters to friends and family in Europe; and he published pamphlets about the benefits of Minnesota. During the course of his life, Mattson founded several Swedish newspapers in Chicago and Minneapolis, including the Minnesota Statstidning.
Major achievements
Mattson had become one of the most prominent Swedish Americans in United States politics.
Works
Author: Reminiscences: The Story of an Emigrant, 1891.
Membership
Member Minnesota Board Immigration, 1867-1872.
Connections
mother: Elna (Larson) Mattson

spouse: Cherstin Peterson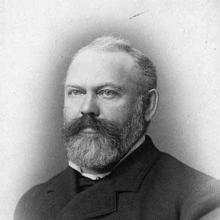 Born December 23, 1832
Died
March 5, 1893
(aged 60)
Nationality
1861

County auditor, United States government
Minnesota, Red Wing

1859

City clerk, United States government
Minnesota, Red Wing

1861 - 1865

Colonel, Third Minnesota Regiment, United States army
USA

1865 - 1865

Immigration booster, United States government
Minnesota, Red Wing

1865

Protection agent, St. Paul & Pacific Railroad Co
Minnesota, USA

1867 - 1868

Representative of the Minnesota Immigration Board in Sweden, Minnesota Immigration Board
Sweden

1870 - 1872

Secretary of State, United States government
Minnesota

1881 - 1883

United States Consul General, United States government
India

1887 - 1891

Secretary of State, United States government
Minnesota, USA
Contributor  
Career

Third Minnesota Regiment, United States army
United States government
Minnesota Immigration Board
United States government
United States government
United States government
United States government
St. Paul & Pacific Railroad Co
United States government

Address
Membership description
Works

Author: Reminiscences: The Story of an Emigrant, 1891.

Relatives
School and college years description
Personality
Quotes from others about the person
Physical Characteristics
Relatives
Go
up
Edit Profile