Albert Jojuan "Joey" Belle
One of the most feared hitters in the American League, outfielder Albert Belle has spent his entire career to date with the Cleveland Indians. Belle, who has earned more press for his temperamental outbursts than for his considerable talent, has been nicknamed "the Charles Barkley of baseball" by his admirers in Cleveland (Barkley earns similar press coverage for bad behavior in the realm of basketball).
Background
He has been among the league-leading home run hitters virtually since 1991 but has also earned at least one suspension per year since he entered the major leagues. "With Albert Jojuan Belle, a spectacularly talented player, it is always stormy weather," attested Sport magazine contributor Bill Livingston. "A new front is always threatening to move in, filling the sky with flame and roiling the waters. Belle seemingly can be cordial one minute and then become … out of control … the next. He can never relax. If he looks back, the tidal wave of emotion might be gaining on him."
Career
Belle became the fourth player to have eight straight seasons of 30 home runs and 100 RBI, joining Babe Ruth, Jimmie Foxx, and Lou Gehrig. As a fielder, Belle had a powerful throwing arm, unsurprising given that he was a gifted pitcher in high school. His Range Factor by games played was consistently higher then the Major League Average Range Factor at that position. He was an accomplished base runner and base stealer, with a career high of 23 steals in 1993, and a surprising 17 steals in 1999 despite hip problems. Belle led the league three times in RBIs, three times in total bases, three times in extra-base hits, and twice in slugging. He was a five-time All-Star between 1993 and 1997.

Notably, Albert Belle's career highs in home runs, RBI, batting average, runs scored, and walks occurred in five separate seasons.

In 2006, the Hardball Times published a statistical comparison of Belle's career statistics with that of 60 of his current and former peers. The article ranked Belle in career "prime value," behind current Hall of Famer Ralph Kiner and presumed future inductee Frank Thomas.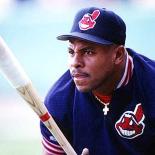 Major achievements
Views
Belle was also considered a model of consistency, compiling a .295 career batting average, averaging 37 home runs and 120 RBIs a season over the ten prime years of his major league career from 1991 to 2000. Belle is also one of only six players in major league history to have nine consecutive 100-RBI seasons. However, his combative personality combined with occasional angry outbursts created a reputation for surliness that often overshadowed his on-field hitting performance.
Quotations: "Back in 1987 when they drafted me. The Indians were the only team interested in taking a chance on Albert Belle, and I made the most of it. Hopefully, they got as much from me as I got from them." - USA Today (November 20, 1996)

"I'd rather just sit and shoot the breeze with the guys. I'll save myself the hassle. Then I don't have to deal with the village idiots (the fans during the 1997 All-Star Game) for a few innings." - July 8,1997

"I know the Chicago media will write a lot of bad things, but they'll write a lot of good things too. I can live with that. In Cleveland, all I got was negative press." - Sport (May 1997)

"I mean, people think I'm too intense for baseball. I've always excelled to be the best, no matter what, but it's like people think something is wrong with that." - Baseball Weekly (March 8, 2000)

"I'm the kind of person that as long as you respect me and don't distract me before the game, then I'll respect you in return and accommodate you after the game. Sometimes the situation dictates that I talk, but everybody should understand I'm not going to talk every day, whether we're in first place or last place." - USA Today (February 25, 2000)
Personality
Albert Belle, ever the explosive personality, has cultivated a tumultuous relationship with the Indians organization ever since he first donned a Tribe uniform in 1989. He was Joey. He was Albert. He was Mr. Freeze. He was Snapper.

And through it all-- through the corked bats, the bulging bicep, the spats with reporters, the run-ins and chase-downs with trick-or-treaters, the fits of rage in the clubhouse--he remained the same driven individual who simply wanted to be the best.

He also wanted to be paid like the best.
Connections
Terrence Sylvester Belle, 45, of Scottsdale, Arizona passed away on Saturday, September 10, 2011. Terrence was born August 25, 1966 in Shreveport, Louisiana along with twin brother Albert J. Belle to loving parents Albert S. Belle and Carrie Giles Belle. Terry grew up in Shreveport, Louisiana with his parents, brother Albert, devoted aunt Hattie M. Walls and grandmother Marie Taylor Giles. Known to family and friend as "Terry", he enjoyed playing little league baseball, junior high school baseball and football, Pop Warner Football, high school baseball and football and Boy Scouts. Terry graduated with honors from Huntington High School in Shreveport, Louisiana (May 1984). Terry completed his formal education at Louisiana State University in Baton Rouge, Louisiana and graduated with a Bachelors of Science in Accounting (August 1988) and then pursued a Masters of Business Administration from Louisiana State University-Shreveport (May 1991). While attending LSU in Baton Rouge, Terry was a member of the LSU Baseball Team and helped the team to reach the College World Series twice (Spring 1986 and 1987).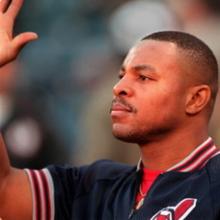 Born
August 25, 1966
(age 51)
Nationality
Contributor  
Album
Relatives

Albert Belle
Carrie Belle
Terrance Belle
Carrie Giles Belle
Albert S. Belle

Career Description
Go
up
Edit Profile