Lance Edward Armstrong
Lance Armstrong is a seven-time winner of the Tour de France and fulltime cancer fighter. He oversees the Lance Armstrong Foundation, a nonprofit organization that assists cancer patients around the world with managing and surviving the disease. He won the first of his record-setting seven Tour de France wins after surviving a nearly fatal bout with testicular cancer. In 2008, he was named one of Time magazine's 100 Most Influential People.
Background
Born on September 18, 1971, in Plano, Texas, Lance Armstrong was raised by his mother, Linda, in the the suburbs of Dallas, Texas. Armstrong was athletic from an early age. He began running and swimming at 10 years old, and took up competitive cycling and triathlons (which combine a 1,000 meter swim, 15-mile bike ride and three-mile run) at 13. At 16, Armstrong became a professional triathlete—he was the national sprint-course triathlon champion in 1989 and 1990.
Career
Lance Armstrong joined the amateur cycling circuit and continued participating in cycling tournaments, winning several of them over the years, as well as the U.S. National Amateur Championship.

He became a professional cyclist after participating with the Motorola Cycling Team, in 1992.

After he finished last at the Classico San Sebastian in 1992, he persevered, only to win 10 titles and was named the youngest road racing cyclist in the world.

Armstrong was known worldwide, after his unbelievable triumph with the UCI Road World Championship in Norway, where he became one of the world's top 100 cyclists.

As years passed, he participated in several cycling events, winning many, including the prestigious Tour de France title, Classico San Sebastian, Belgian Classic Fleche Wallone and so on.

After surviving testicular cancer, he made a glorious comeback and won a total of seven Tour de France titles, from 1999 to 2005.

He retired from professional cycling in 2005 and returned, only to participate in the 2009 Tour de France, where he finished at third place.
Major achievements
Tour de France Winner 1999 (stripped)

Tour de France Winner 2000 (stripped)

Tour de France Winner 2001 (stripped)

Tour de France Winner 2002 (stripped)

Tour de France Winner 2003 (stripped)

Tour de France Winner 2004 (stripped)

Tour de France Winner 2005 (stripped)

Tour de France Winner 2010 (stripped)

Sports Illustrated Sportsman of the Year 2002

Associated Press Athlete of the Year (male) 2002

Associated Press Athlete of the Year (male) 2003

Associated Press Athlete of the Year (male) 2004

Associated Press Athlete of the Year (male) 2005
Views
Quotations: 'If you worried about falling off the bike, you'd never get on.'

'Two things scare me. The first is getting hurt. But that's not nearly as scary as the second, which is losing'.

'It can't be any simpler: the farewell is going to be on the Champs-Elysees.'

'If children have the ability to ignore all odds and percentages, then maybe we can all learn from them. When you think about it, what other choice is there but to hope? We have two options, medically and emotionally: give up, or Fight Like Hell.'
Personality
Connections
Armstrong married Kristin Richard, a public relations executive he met through his cancer foundation, in 1998. The couple had a son, Luke, in October 1999, using sperm frozen before Armstrong began chemotherapy. Twin daughters, Isabelle and Grace, were born in 2001. The couple filed for divorce in 2003. Since then, he's dated rocker Sheryl Crow, fashion designer Tory Burch, actress Kate Hudson, and TV star Ashley Olsen.

stepfather: Terry Armstrong

girlfriend: Anna Hansen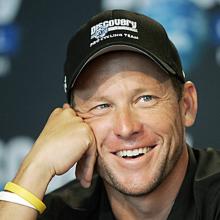 1989

1990 - 1991

1991

1992 - 1996

1997

1998 - 2004

2005

2009

2010 - 2011
Contributor  
Relatives

Eddie Charles Gunderson
Terry Armstrong
Kristin Richard
Luke David Armstrong (12-Oct-1999)rmstrong
Luke David Armstrong (12-Oct-1999)
Go
up
Edit Profile