Arnold Daniel Palmer (nicknamed "the King")
Arnold Palmer is one of the most successful and popular golfers in the sport's history. Arnold Palmer was the first person to make one million dollars playing golf. Palmer attracted legions of fans. He helped widen the appeal of golf beginning in the 1950s, then helped establish the Champions Tour in the early 1980s.
Background
Arnold Daniel Palmer was born in Youngstown, Pennsylvania, the oldest of Milfred "Deacon" Palmer and Doris Palmer's four children. He grew up in nearby Latrobe, Pennsylvania. Palmer's father gave golf lessons at the Latrobe Country Club and gave Arnold his first set of golf clubs when the boy was three years old. The son of a country club groundskeeper, Palmer was the first golfer to win the Masters Tournament four times and is generally regarded as one of the greatest players in the history of men's professional golf. Nicknamed "the King," Palmer won 92 tournaments during his career.
Education
The strongly-built young man concentrated on golf in high school, soon was dominating the game in Western Pennsylvania and twice won the Pennsylvania high school championship.

He won his first of five West Penn Amateur Championships when he was 17, competed successfully in national junior events and went to Wake Forest University (then College), where he became No. 1 man on the golf team and one of the leading collegiate players of that time. Deeply affected by the death in an auto accident of his close friend and classmate, Bud Worsham, younger brother of 1947 U.S. Open Champion Lew Worsham, Arnold withdrew from college during his senior year and began a three-year hitch in the Coast Guard.His interest in golf rekindled while he was stationed in Cleveland. He was working there as a salesman and playing amateur golf after his discharge from the service and brief return to Wake Forest when he won the U.S. Amateur in 1954 following his second straight victory in the Ohio Amateur earlier that summer.
Career
Arnold Palmer was one of the most charismatic and popular golfers to grace the game. His impact in the early days of golf on television dramatically raised the profile of the sport, and with it, the money and opportunities available to pro golfers.

As a teen, Palmer won five West Penn Amateur Championships. He played collegiately at Wake Forest, but gave up the game for several years when he joined the Coast Guard.

He returned to golf in the early 1950s, and eventually won the 1954 U.S. Amateur. He turned pro five months later.

Palmer led the PGA Tour in wins with four in 1957, then exploded in 1958 with his first major, the Masters Tournament. Palmer's swashbuckling, go-for-broke style, combined with an aggressive, unorthodox swing, plus movie-star looks and charisma, immediately made him a star.

He didn't disappoint, dominating the PGA Tour into the early 1960s. In 1960, he won eight times including the Masters and U.S. Open. At the Open, he made up seven strokes in the final round to win. In 1962, he had another eight wins, including the Masters and British Open.

Speaking of the British Open, Palmer decided to play it in 1960, a time when very few American golfers made the trip across the Atlantic. His participation that year yielded huge crowds and renewed interest in the oldest tournament. Palmer finished second to Kel Nagle, but he helped revitalize that Open Championship's cachet.

That was the year, too, that Palmer created the modern notion of the Grand Slam as consisting of the four professional majors: The Masters, U.S. Open, British Open and PGA Championship. Palmer had already won the first two when he headed to Great Britain, and wrote a magazine article calling his quest to win all four an updated version of Bobby Jones' 1930 Grand Slam (which included two amateur championships).

From 1957 to 1963, Palmer led the Tour in wins five times and money four times. He won four scoring titles, the last in 1967. Palmer won seven majors, all of them from 1958 to 1964, and was the first 4-time winner of the Masters.

His last big year on the PGA Tour was 1971, when he won four times. The last of his 62 PGA Tour wins came in 1973, but his popularity never waned. It surged again in 1980 when Palmer joined the Champions Tour, and once again helped popularize a golf tour.

Off the course, Palmer built a business empire that included golf academies, tournament and course management companies, equipment companies, clothing lines and more. He co-founded The Golf Channel. Palmer's endorsement deals alone kept him one of sport's annual richest athletes into his 80s.

Palmer first visited Bay Hill Club and Lodge (see photos) near Orlando, Fla., in 1965, made his winter home there, and became owner of the club in 1975. In 1979, Palmer began hosting a PGA Tour event there, and today that tournament is known as the Arnold Palmer Invitational.

Arnold Palmer was elected to the World Golf Hall of Fame in 1974.
Major achievements
He is a major stockholder and member of the Board of Directors of ProGroup, Inc., Ooltewah, TN, (Chattanooga area), a sporting goods company which manufactures and markets various leisure-industry products focused on golf, including equipment bearing the Palmer name and design. Another important facet of his activities involves golf course design, management and teaching in businesses operating as Palmer Course Design Company, in which he is associated with Edwin B. Seay, past president of the American Society of Golf Course Architects; Arnold Palmer Golf Management Company, and the Arnold Palmer Golf Academy. Since the mid-1960s, Palmer has put his stamp on some 200 new courses throughout the nation and world. His modest business empire and tournament play keep Palmer on the move much of the year, most of the travel in his Cessna Citation VII jet aircraft with Arnold at the controls when aboard.
Personality
Arnold Palmer is many things to many people...world famous golf immortal and sportsman, highly-successful business executive, prominent advertising spokesman, skilled aviator, talented golf course designer and consultant, devoted family patriarch and a man with a down-to-earth common touch that has made him one of the most popular and accessible public figures in history.Besides the magnificent performance record, his magnetic personality and unfailing sense of kindness and thoughtfulness to everybody with whom he comes in contact have endeared him to millions throughout the world and led to the informal formation of the largest non-uniformed "military" organization in existence -- Arnie's Army.
Quotes from others about the person
Broadcaster Vin Scully: "In a sport that was high society, he made it 'High Noon.' "

Jack Nicklaus: "Arnold is the reason golf enjoys the popularity it does today. He ... made golf attractive to the television-viewing public. There never has been anyone like him before in the game of golf, and there probably won't be another like him again."
Connections
He met Winifred Walzer at a tournament in Eastern Pennsylvania. They were married shortly after he turned professional in the fall of 1954 and Winnie traveled with him when he joined the pro tour in early 1955. Mrs. Palmer died of cancer on November 20, 1999. Mr. Palmer and his second wife, Kathleen (Kit) Gawthrop, were married in a private ceremony in Hawaii on January 26, 2005. He underwent successful prostate cancer surgery in 1997 and has become a strong advocate of programs supporting cancer research and early detection.

The Palmer family consists of two daughters -- Peggy Palmer Wears and

Amy Palmer Saunders, who lives and, with husband Roy, oversees operations at the Bay Hill Club and Latrobe Country Club; four granddaughters, two grandsons and nine great grandchildren. Mr. Palmer's second wife has three children – son Al Gawthrop III and daughters Lynn Bouck and Blair Miller, all living in the Denver area – and eight grandchildren. Arnold's brother, Jerry, who succeeded their father as course superintendent at Latrobe CC, was general manager for many years and now is a member of his personal office staff, and sisters, Lois Jean Tilley and Sandra Sarni, live in their home area in Western Pennsylvania. Their mother, Doris, passed away in 1979 after a long, brave battle against crippling arthritis.

Spouse (1954-1999): Winifred Walzer Palmer (1934-1999)

-

United States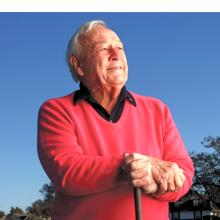 Born September 10, 1929
Nationality