Background
Education
He went to Tri-West High School in nearby Lizton, Indiana (where he was voted prom king) and graduated in 1989. The day of his graduation, he got his diploma and quickly changed into his racing gear for a dirt track race in Bloomington that night. He joined the cross country track team in high school to stay in shape for racing. Often, he'd leave school early (or skip it entirely) on Fridays in favor of travel to tracks like Eldora and Winchester. By the time he graduated, he'd already won over 100 races.
Career
Early Racing Career

Jeffrey Michael Gordon was born on August 4, 1971, in Vallejo, California. Parents Will and Carol divorced shortly after he was born, and Carol began dating a co-worker named John Bickford, who stoked Gordon's interest in auto racing before becoming his stepfather. Gordon began racing BMX bikes at age 4, and the following year he slipped behind the wheel of a quarter midget for his first competitive driving experience.

He won the national quarter-midget championship at ages 8 and 10, and continued to dominate older children in go-kart events. When Gordon was 13, the family moved to Pittsboro, Indiana, so he could race powerful sprint cars without the obstacle of a minimum age requirement. After joining the United States Auto Club at 16, he won the organization's National Midget championship at 19 and its Silver Crown championship the following year.

He won the USAC Midget championship in 1990. That year, Jeff ran 21 USAC Midget Car races. He was the fastest qualifier 10 times, won nine races and at age 19 became the youngest Midget class champion ever. The next year he moved up to USAC's Silver Crown Division (the cars are similar to Midgets and Sprints but are a lot bigger), and at 20 he became the youngest driver to ever win that championship.

NASCAR Stardom

Having taken an interest in stock cars, Gordon earned a chance to race for owner Hugh Connerty in NASCAR's Busch Grand National Series in 1990. He joined Bill Davis's team the following year, his first on the circuit full-time, and was named Rookie of the Year.

Gordon soon caught the eye of owner Rick Hendrick, who marveled at the young driver's control of his vehicle. Gordon signed with Hendrick in May 1992, and he made his Winston Cup Series debut that November in what turned out to be auto legend Richard Petty's final NASCAR race.

Named the Winston Cup Rookie of the Year in 1993, Gordon broke through with victories in the Coca-Cola 600 at Charlotte Motor Speedway and the Brickyard 400 at Indianapolis Motor Speedway in 1994. With crew chief Ray Evernham and his "Rainbow Warriors" helping to keep the No. 24 DuPont Chevrolet in top form, Gordon claimed his first series championship in 1995.

Clean-cut and polished in front of a camera, Gordon helped transform auto racing from a regional spectacle into a mainstream sport. His corporate image rubbed some of racing's old guard the wrong way, but even the critics had to acknowledge his immense skills. Gordon became the youngest driver to triumph at the Daytona 500 in 1997 and tied a modern record with 13 victories in 1998, finishing both years as the series champion. He notched a fourth championship in 2001 with new crew chief Robbie Loomis in tow, culminating an amazing stretch that produced 56 victories in seven years.

A fifth championship proved elusive, but Gordon continued to rank among NASCAR's elite. He won his third Daytona 500 in 2005, and in 2007 he accumulated a modern-record 30 Top-10 finishes en route to a second-place finish in the standings. Stymied by back problems in 2008, the veteran driver proved more than capable of keeping up with the sport's young guns in 2014, notching a record fifth Brickyard 400 trophy among his four victories.

Despite his recent success, Gordon announced in January 2015 that the upcoming season would be his last as a full-time NASCAR driver. At the time, his 92 career victories were third most all-time, and his four championships ranked fourth.

Children's Foundation

The famed driver launched the Jeff Gordon Children's Foundation in 1999 to help fund pediatric cancer research. In 2006, he opened the Jeff Gordon Children's Hospital in Concord, North Carolina.

Jeff's other passion is off the track in his philanthropic efforts to support pediatric cancer research, treatment and patient support programs through Jeff Gordon Children's Foundation. The vision of the Jeff Gordon Children's Foundation is that there will be a day when no child will face the uncertainty of cancer, and that successful treatments will not result in negative, long-term effects. Until we reach this day we remain steadfast in raising public awareness and much needed funding for childhood cancer research. In addition to providing support to the Jeff Gordon Children's Hospital in Concord, NC which serves children in the community by providing a high level of primary and specialty pediatric care to all of their children, regardless of their ability to pay.

What started as a small project driven by one special child has grown into an organization that has raised more than $14 million for children's health organizations since its establishment 15 years ago. In 2011, Jeff Gordon Children's Foundation extended its efforts globally to bring pediatric cancer care to Rwanda, Africa.
Major achievements
Religion
The new Gordon hasn't lost his Christian faith. Spending time in New York has exposed Gordon to people of different religious faiths, from Catholics to Jews to members of the Kabbalah, a mystical faith related to Judaism. Gordon has read "bits and pieces" of books about religion but says, "I'm better at getting it from people that know about it."

He says: "(Religion) interests me, because I think that there's a lot that you can pick up from all of them, but I really have a hard time being so focused on one.

"It's like being a Republican or being a Democrat — it's like somebody tells you you have to believe this, even though you may not, but in order to be a Democrat or a Republican, you have to do that. I don't want to be like that. I don't want to be restricted how I can go about my religion and my life. And I just, again, want to know what's going to make me happy. So I think that (religion is) still part of me, it always will be, but I might not be as public about it.

"Some people say that in order to be a Christian, you have to thank God all the time and you have to go out there and try to bring other people into the faith. I wasn't ever really pushed. I liked the fact that I was going to make that decision on my own, and I want to lead more by example and how I live my life more so than what I'm saying you should trust or believe in."
Denomination: Christian
Views
Quotations: "I'm not different," he says. "I'm just a little more relaxed, a little less protective, and I'm happy with my life right now, and I think it's showing in my personality. I have not changed my beliefs and what I want in life. I've just maybe put things in perspective a little bit more and tried to ease off on the things that aren't worth worrying about."
Personality
Gordon might now be less likely to express religious sentiments, but he seems much more open about everything else. He still ranks as one of the sports world's most approachable and polite superstars.

Height - 5 ft 8 in (1.73 m)

Weight -150 lb (68 kg)
Quotes from others about the person
"The Jeff Gordon VIP Experience was an amazing day I will never forget! My husband & I have been huge Jeff Gordon fans for 22 years and never dreamed we would ever have this opportunity to meet him. Jeff was so kind to us. A real genuine person. He treated all of us very special. He really cares about his fans. As busy as he is on a race weekend, he still takes time out for his fans. It was so much fun. Jeff went over and above to make sure our experience would be a day we all would never forget. The VIP staff were wonderful and helped in any way they could. A big thank you to them and especially Jeff Gordon!"

– Sharon B. from Ceresco, Michigan (Michigan Jeff Gordon VIP Experience)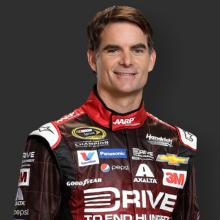 Born
August 4, 1971
(age 46)
Nationality