Andres J. Klein-Szanto
Head, Histopathology Facility, Fox Chase Cancer Center, Philadelphia
Background
Andres Klein-Szanto was born in Buenos Aires, Argentina. He worked as a student assistant and histotechnologist in the Departments of Histology and Pathology during his medical student years. He graduated from the University of Buenos Aires Medical School in 1965 (Medico or Physician=M.D.) and after training in pathology and further postgraduate experimental pathology work that resulted in his doctorate thesis he was awarded the Doctor in Medicine degree (1970). His role models and mentors during these early years were Professors De Robertis, Mancini, Lascano, Schajowicz, Itoiz and especially Romulo L. Cabrini. He worked as an Instructor and then Chief Instructor of Pathology in the Medical and Dental Schools of the University of Buenos Aires and the University of Zurich, Switzerland (1965-1977). Since 1978, he was employed as a Senior Medical Scientist at the Oak Ridge National Laboratory and as Professor of Biology and Molecular Carcinogenesis at the M.D. Anderson Cancer Center of the University of Texas. At the present time Dr. Klein-Szanto is Professor and Director of the Histopathology Service at the Fox Chase Cancer Center, Philadelphia, and a consultant at the University of Pennsylvania, Perelman School of Medicine, Philadelphia. His laboratory studied mechanisms of tumor progression of squamous cell carcinomas and has developed several models to evaluate the development of human cancer using xenotransplanted normal and precancerous human tissues exposed in vivo to carcinogens. His laboratory was the first to describe in an in vivo model, the signature p53 mutations seen in tumors produced by benzo(a)pyrene, the most ubiquitous human carcinogen present in tobacco smoke. During the last two decades his work on proprotein convertases and cancer has emphasized the role of these proteases in skin squamous cancer progression as well as in several human malignancies. Partly because of these dicoveries, proprotein convertases have been recognized as targets for cancer therapy and several clinical trials are being conducted. These trials designed by researchers from Dallas use furin interference RNA in combination with GMCSF (granulocyte-macrophage colony-stimulating factor) to down regulate furin and decrease furin-substrate mediated pro-tumorigenic effects including immunosuppression and cell growth. The Klein-Szanto laboratory has published some of the first papers highlighting the role of furin in human tumor invasion and progression and has also been at the forefront of PC-inhibitor experimental treatments with CMK, PDX and PC siRNAs. The use of inhibitors helped to better understand the mechanism of PC activation of cancer-related factors such as the TGF beta, IGFR, IGFR-1, MT-MMPs, etc, but also showed the direct effect of these inhibitors on cancer cell growth and invasion in in vitro and in vivo animal models. In particular, the lab was the first to highlight the overexpression of furin in human ovarian cancer and its potential as a target for therapy (the focus of the first clinical trials). In addition, his laboratory is heavily involved in esophageal cancer research with a team at the University of Pennsylvania.

Dr. Klein-Szanto has published more than 400 scientific papers and six books on these topics. He served on several specialty journal editorial boards, was the Editor of the Journal of Cutaneous Pathology and participated as a committee and study section member for the National Institute of Health, NIEHS and other funding and professional associations.
Education
Primary Bilingual Schools: Colegio Sarmiento Olivos and Colegio Panamericano, Olivos

Secundary School: Colegio Roca (Arts and Sciences)

University of Buenos Aires, School of Medicine
Career
Instructor and Chief Instructor, University of Buenos Aires, School of Medicine and School of Dentistry, Argentina

Oberassistent, University of Zurich, Faculty of Medicine, Zurich, Switzerland.

Researcher at Argentine National Energy Comission, Buenos Aires, Argentina.

Visiting scientist, Radiumhospitalet, Oslo University Hospital, Oslo, Norway.

Researcher at Oak Ridge National Laboratory, MD. Anderson Cancer Center and Fox Chase Cancer Center, USA
Major achievements
In vivo growth of human xenotransplanted normal and preneoplastic tissues. In vivo malignant transformation of normal and preneoplastic human respiratory epithelium in xenotransplants exposed to human tobacco-derived carcinogens.

First in vivo description of signature p53 mutations in mouse skin exposed to human carcinogen benzopyrene, the most ubiquitous human carcinogen from tobacco smoke.

Pioneering descriptions of PACE4 and furin's role as protumorigenic endogenous enzymes in mouse skin and human malignancies, including ovarian cancer. Studies using furin inhibitors to decrease experimental and human cancer cell growth and invasion.


Connections
Son of : Geza M. Klein and Madeleine Szanto

Married to: Maria Ursula Weyrauch

Father of : Walter M. Klein, Matias A. Klein and Julian O. Klein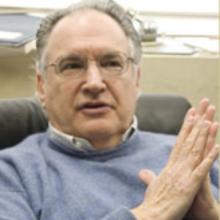 1955 - 1959

Colegio Nacional Roca, Buenos Aires

1960 - 1970

Universidad de Buenos Aires
Buenos Aires, Argentina