Louis MacNeice (Frederick Louis MacNeice)
Career
In 1930 MacNeice accepted a post as classics lecturer at the University of Birmingham, a position he held until 1936, when he went on to teach Greek at Bedford College for Women, University of London. In 1941, he joined the British Broadcasting Company as a staff writer and producer. Like many modern English poets, MacNeice found an

audience for his work through British radio. Some of his best-known plays, including 'Christopher Columbus' (1944), and 'The Dark Tower' (1946), were originally written for radio and later published.

In addition to his poetry and radio dramas, MacNeice also wrote the verse translation 'The Agamemnon of

Aeschylus' (1936), translated Goethe's 'Faust' (1951), and collaborated with Auden on the 'travelogue Letters from Iceland' (1937).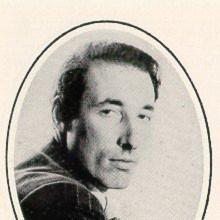 Contributor  
School

Marlborough College, Wiltshire

College/University
Career

University of Birmingham

Location
Address
mainPhoto

Bedford College for Women

Address
Background
Membership description
Works

poetry: Blind Fireworks (1929, poetry)

Link
Works description
mainPhoto

poetry: Poems (1935, poetry)

Link
Works description
mainPhoto

poetry: Letters from Iceland (1937, with W. H. Auden)

Link
Works description
mainPhoto

poetry: The Earth Compels (1938, poetry)

Link
Works description
mainPhoto

poetry: Autumn Journal (1939, poetry)

Link
Works description
mainPhoto

poetry: The Last Ditch (1940, poetry)

Link
Works description
mainPhoto

poetry: Plant and Phantom (1941, poetry)

Link
Works description
mainPhoto

poetry: The Poetry of W. B. Yeats (1941)

Link
Works description
mainPhoto

poetry: Springboard (1944, poetry)

Link
Works description
mainPhoto

poetry: Holes in the Sky (1948, poetry)

Link
Works description
mainPhoto

poetry: Collected Poems, 1925–1948 (1949, poetry)

Link
Works description
mainPhoto

poetry: Ten Burnt Offerings (1952, poetry)

Link
Works description
mainPhoto

poetry: Autumn Sequel (1954, poetry)

Link
Works description
mainPhoto

poetry: Visitations (1957, poetry)

Link
Works description
mainPhoto

poetry: Solstices (1961, poetry)

Link
Works description
mainPhoto

poetry: The Burning Perch (1963, poetry, posthumous)

Link
Works description
mainPhoto

play: The Agamemnon (1936, translations Aeschylus)

Link
Works description
mainPhoto

play: Christopher Columbus (1944, radio play)

Link
Works description
mainPhoto

play: He Had a Date (1944, radio play)

Link
Works description
mainPhoto

play: The Dark Tower (1947, radio play)

Link
Works description
mainPhoto

play: Faust (1949, translations Goethe)

Link
Works description
mainPhoto

play: The Administrator (1961, radio play)

Link
Works description
mainPhoto

play: The Mad Islands (1962, radio play)

Link
Works description
mainPhoto

play: Persons from Porlock (1963, radio play)

Link
Works description
mainPhoto

Relatives

John MacNeice
Lily (d. 1914)
Georgina Greer (stepmother after 1917)
Elizabeth (b. 1903, d. 1981)
William (b. 1905, d. 1968)
Giovanna Marie Thérèse Babette Ezra ("Mary Ezra", Jewish, m. 1930, div. 1936/37)
Daniel John MacNeice (b. 15-May-1934)
Nancy Coldstream (painter, affair in 1930s, b. 1909, d. 2001)

School and college years description
Personality
Quotes from others about the person
Physical Characteristics
Go
up
Edit Profile