Renault Renaldo Duncan (Duncan Renaldo)
Background
Renaldo told some interviewers that he actually did not know where he was born Various sources claim that he was born in Oancea, Galaţi County, Romania as Vasile Dumitru V. Couyanos or Basil Couyanos. Renaldo apparently never knew his biological parents and was raised in several European countries. His birthplace has been generally stated as Romania and he said his first childhood memories were in Romania.

He emigrated to America in the 1920s.

Renaldo died of lung cancer in 1980, aged 76, in Goleta, California. His interment took place in Calvary Cemetery in Santa Barbara, California.
Career
Failing to support himself as a portrait painter, he tried producing short films. He eventually took up acting and signed with MGM in 1928 where he worked in at least two major films, The Bridge of San Luis Rey and Trader Horn. The latter film was shot on location in Africa and is notorious for adventures that rivaled the source book's and film's plot of a "great white hunter" and a white blonde jungle queen, the lost daughter of a missionary. One crew member was taken by a crocodile and another killed by a charging rhino. Many crew and stars were stricken with malaria but Renaldo told one interviewer in 1971 that he never contracted the parasite because he took a hunter's advice to the "race the blood" with a shot of whiskey in the morning and another at dusk.

In 1934, he was arrested for illegal entry into the United States, but eventually was pardoned by President Franklin Roosevelt and returned to acting. He found minor roles at Republic Studios and other Poverty Row studios until he convinced Republic head Herbert Yates in 1939 to introduce a Latin cowboy into The Three Mesquiteers series. The character only lasted a year, though, and Renaldo was back to minor roles in B-films, for example Tiger Fangs (1943). Renaldo did play some roles in mainstream films as well, including in Spawn of the North (1938) with George Raft, Henry Fonda and John Barrymore; and For Whom the Bell Tolls with Gary Cooper and Ingrid Bergman. He was also a producer, writer and director.
Major achievements
Appeared movies Fifty-Fifty, 1924, Color Art Pictures Marquita, Romany Love, Mission Bells, Verdi, Beethoven, Indian Love Lyrics, 1926-28, Bridge of San Louis Rey, 1928, Trader Horn, 1929-31, The Cisco Kid series, from 1943; producer, author Bells of San Fernando, 1946; producer Don Ricardo Returns, 1948; author Mission Bells, 1927, Marquita, 1927, The Highway Man, 1947, Dick Turpin's Ride, 1947; exhibited paintings Ebell Theater, Los Angeles, 1958. Director Santa Barbara (Cal.) Fiesta, 1967. Member Hope Ranch Association (director), Screen Actors Guild, Screen Writers Guild, American Guild Variety Artists Equity. Address: Santa Barbara, Calif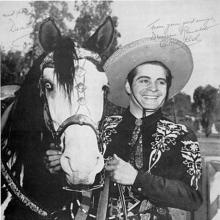 Died
September 3, 1980
(aged 76)