Yasseen Mansour (Yassin Ibrahim Lutfi Mansour)
Chairman of the Board and Chief Executive Officer for Palm Hills Developments Company SAE since its establishment in January 2005.
Career
He is Co-Founder and active member of Lead Foundation, national Cancer Institute, and as a Secretary General for Future Foundation. Prior to that, Mr. Mansour was the President and Chief Executive Officer of El Mansour and El Maghraby Investment and Development Co (MMID). He is also a Founding Member and Chairman of Manfoods; the operator of the McDonald's franchise in Egypt, Chairman of Mantrac, Untrac, Credit Agricol Egypt, and Royal Sun Alliance Co. (Egypt), in addition to being a Board Member of the Commercial International Life Insurance Co (CIL).
Connections
brother:

Youssef Mansour - Egypt - businessman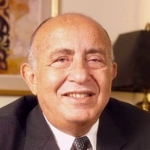 brother:

Mohamed Mansour - Egypt - businessman