M. Mohammed
Bedjaoui
MOHAMMED BEDJAOUI, Diplomat, Official. Member, International Law Commission, United Nations. Ordre du Mérite Alaouite, Morocco; Order of the Republic, Egypt; Lauréat, Association des Amis de l'Université de Grenoble, 57; Lauréat, Carnegie Endowment for International Peace, 56. Société Française pour le Droit International; Senegal Group, Permanent Court of Arbitration; Honorary Member: Association des Auditeurs et Anciens Auditeurs, Hague Academy
Background
BEDJAOUI, Mohammed was born on September 21, 1929 in Sidi-BelAbbbs. Son of Benali Bedjaoui and Fatima Oukili.
Education
University of Grenoble, 1951, Licentiate in Law, 1956, Docteur en Droit. Institut d'Etudes Politiques, University of Grenoble, Diploma. Spoken languages: Arabic, French, English.
Career
Member, International Law Commission, United Nations since 1965. Ambassador to France since 1970. Permanent Representative to United Nations Educational, Scientific and Cultural Organization since 1971.

Minister of Justice & Keeper of the Seals, Algeria, 1964-1970. Dean, Faculty of Law & Economy Science, University of Algiers, 1964-1965. President, Admin Council, Société Nationale des Chemins de Fer Algériens, 1964.

Secretary General, Council of Minister, Algiers, 1962-1964. Member, Deln of Algeria to United Nations General Assembly, 1962. Director, Office of the President of National Constituent Assembly, Algiers, 1962.

Legal Counsellor, Provisional Government of Algeria, 1958-1961. Legal Counsellor of the Arab League, Geneva, 1959-1962. Researcher, Centre National de la Recherche Scientifique, Paris, 5658.

Attorney, Court of Appeal, Grenoble, France, 1951-1953.
Works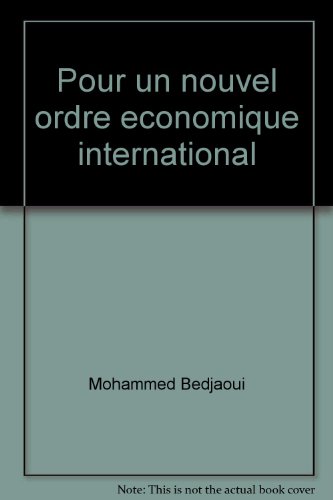 book

Other Work

Author: International Civil Service, 1956. Fonction Publique internationale et influences nationales, 1958. La Revolution Algerienne et le Droit, 1961.Problèmes récents de Succession d'Etats, 1970. Non-alignement et droit international, 1976. Pour un nouvel ordre economique international, 1978.Contributor articles to professional journals.
Membership
Société Française pour le Droit International. Senegal Group, Permanent Court of Arbitration. Honorary Member: Association des Auditeurs et Anciens Auditeurs, Hague Academy of International Law.
Connections
Married Leila Francis, October 21, 1962. Children: Amal, Assia.
father:

Benali Bedjaoui
mother:

Fatima El-Oukili) Bedjaoui
spouse:

Leila Francis
children:

Amal Bedjaoui
Assia Bedjaoui
Awards
Ordre du Mérite Alaouite, Morocco. Order of the...

Ordre du Mérite Alaouite, Morocco. Order of the Republic, Egypt. Lauréat, Association des Amis de l'Université de Grenoble, 1957.\r\nLauréat, Carnegie Endowment for International Peace, 1956.